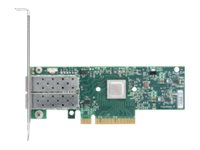 NVIDIA ConnectX-4 Lx EN
nettverksadapter - PCIe 3.0 x8 - 25 Gigabit Ethernet x 1
Artikkel nr.
MCX4111A-ACAT
Du må velge minst ett produkt for at vi skal beregne pris og lagernivå.
Informasjon

Open compute project form factor
Industry-leading throughput and low latency for web access and storage performance
Maximizing data centers' return on investment (ROI) with multi-host technology
Smart interconnect for x86, Power, ARM, and GPU-based compute and storage platform
Cutting-edge performance in virtualized overlay networks
Efficient I/O consolidation, lowering data center costs and complexity
Virtualization acceleration
Power efficiency

With ConnectX-4 Lx EN, server and storage applications will achieve significant throughput and latency improvements resulting in faster access, real-time response and more virtual machines hosted per server. ConnectX-4 Lx EN for Open Compute Project (OCP) specification 2.0 improves network performance by increasing available bandwidth while decreasing the associated transport load on the CPU especially in virtualized server environments.

Moreover, ConnectX-4 Lx EN introduces the multi-host technology, which enables a new innovative rack design that achieves maximum CAPEX and OPEX savings without compromising on network performance.


*Lagerstatus og pris for våre produkter vises alltid på produkt som forteller om varen er på lager eller ikke i nettbutikken. Vi tar forbehold om at feil i lagerstatus kan forekomme samt prisendring fra våre leverandører, endringer i valutakurser, tollsatser eller avgifter.