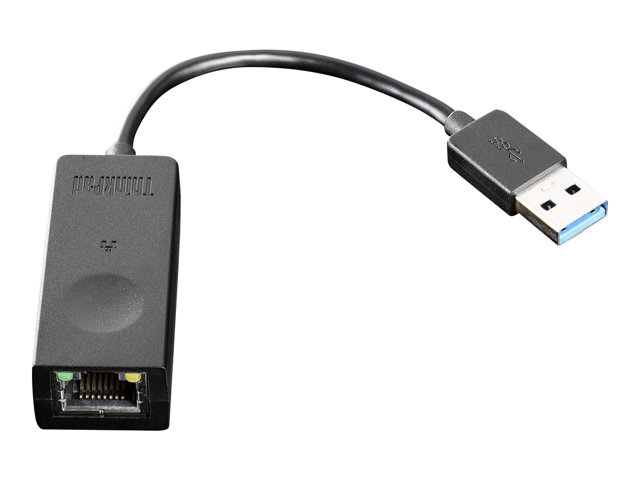 Lenovo ThinkPad USB 3.0 Ethernet adapter
nettverksadapter - USB 3.0 - Gigabit Ethernet
Informasjon

Full-sized RJ-45 connector
Two LEDs on RJ-45 port for power and data transfer indication
Booting from LAN and loading image from remote server for selected system
QoS (Quality of Service) tagged packets and duplicate address detection
Gigabit speed when running on USB 3.0 environment
Full-duplex flow control

The ThinkPad USB 3.0 Ethernet adapter enables Ethernet on systems which do not have Ethernet RJ-45 connector through USB port on the system. The ThinkPad USB 3.0 Ethernet adapter not only provides high speed Gigabit Ethernet solution via USB 3.0 port, but also enables boot over the LAN on selected ThinkPad systems. Connect it with your ultrabook or tablet to your corporate VPN at the office or go online in a hotel suite. The adapter's small form factor allows a convenient fit into any computer case or bag to travel, so you can easily take it with you anywhere.


*Lagerstatus og pris for våre produkter vises alltid på produkt som forteller om varen er på lager eller ikke i nettbutikken. Vi tar forbehold om at feil i lagerstatus kan forekomme samt prisendring fra våre leverandører, endringer i valutakurser, tollsatser eller avgifter.