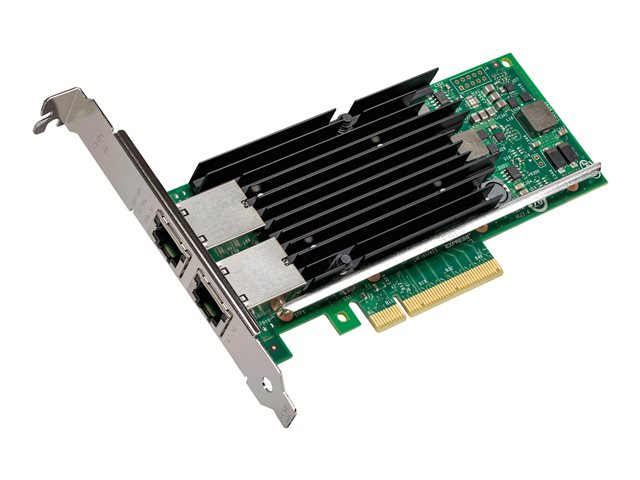 Intel Ethernet Converged Network Adapter X540-T2
nettverksadapter - PCIe 2.1 x8 - 10Gb Ethernet x 2
Informasjon

Low cost, low power, 10 Gigabit Ethernet (10GbE) performance for the entire data center
Standard CAT-6a cabling with RJ45 connectors
Backward compatibility with existing 1000Base-T networks simplifies the transition to 10GbE
Flexible I/O virtualization for port partitioning and quality of service (QoS) of up to 64 virtual ports
Unified networking delivering LAN, iSCSI, and FCoE in one low cost CNA
Industry first dual-port 10GBase-T adapter with single-chip solution with integrated MAC + PHY
Reliable and proven 10 Gigabit Ethernet technology from Intel corporation

The Intel X540 family of products works with existing networks today. It works with legacy Gigabit Ethernet (GbE) switches and Cat 6A cabling. Install the Intel X540 adapter into a server and the auto-negotiation between 1GbE and 10GbE provides the necessary backwards compatibility that most customers require for a smooth transition and easy migration to 10GbE. When time and budget allows, 10GBase-T switches can be added any time to experience the full benefits of 10GbE.

The Intel Ethernet Converged Network Adapter X540 is the low cost way to deploy 10GbE in your data center today. The Intel X540 uses low cost, Cat 6 and Cat 6A cabling. Chances are this cabling already exists in the data center. A way for Intel to reduce cost and power is to integrate components into a single-chip solution. Of course, integration is what Intel does best. With the Intel X540 controller, the MAC and the PHY are integrated into a single-chip solution. With lower cost and power, 10GBase-T is ready for broad deployment. 10GBase-T is an option for every rack and tower server in the data center. The wait for a low cost 10GbE copper solution to broadly deploy 10GbE to all corners of the data center is over. The Intel X540 adapter provides bandwidth-intensive applications with highly affordable 10GbE network performance and cost-effective RJ-45 connectivity for distances up to 100 meters.


*Lagerstatus og pris for våre produkter vises alltid på produkt som forteller om varen er på lager eller ikke i nettbutikken. Vi tar forbehold om at feil i lagerstatus kan forekomme samt prisendring fra våre leverandører, endringer i valutakurser, tollsatser eller avgifter.